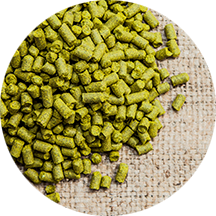 FREEDOM BLEND - 2021 Pellets
ALL PROCEEDS TO BENEFIT SOLDIERS' ANGELS
Alpha Acid 10.4%
Freedom Blend is a complex combination of 4 distinct Puterbaugh Farms-grown hop varieties, each delivering a punch of their individual characteristics that play beautifully together in American style Ales. Brace yourself for strong notes of bright fruit and citrus with layers of spicy and earthy undertones, perfect for leveling up your Summer brew day plans.



---
Domestic Hop Pellets
Shop our U.S. and farm grown hops in pellet form. Our pellets are available in various unit sizes, packaged in (4.2m) multi-layered, high-barrier, soft pack mylar bags and vacuum sealed with a nitrogen flush. Pellets are stored in our cold storages here on our farm until delivery straight to you.