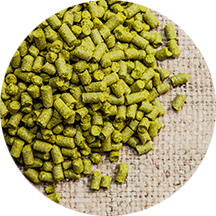 TRIUMPH - 2022 Pellets
2022 Crop
Alpha Acid: 11.5%
Aroma variety with slightly higher bittering characteristics. Triumphs heritage consists of Nugget, Hallertau Mittelfruh, Brewers Gold and EKG. When brewing with Triumph you can expect peaches, key lime, orange, bubblegum and pine.
---


Possible Substitution

---
Domestic Hop Pellets
Shop our U.S. and farm grown hops in pellet form. Our pellets are available in various unit sizes, packaged in (4.2m) multi-layered, high-barrier, soft pack mylar bags and vacuum sealed with a nitrogen flush. Pellets are stored in our cold storages here on our farm until delivery straight to you.