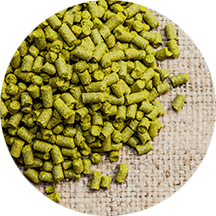 SABRO® - 2020 Pellets
2020 Crop 
Alpha Acid 13.5%
Aroma variety notable for its fruity and citrus flavors. Aromas include tangerine, coconut, tropical fruit, and stone fruit with hints of cedar, mint, and cream. Sabro's pedigree is the result of a unique cross pollination of a female neomexicanus hop.
Domestic Hop Pellets
Shop our U.S. and farm grown hops in pellet form. Our pellets are available in various unit sizes, packaged in (4.2m) multi-layered, high-barrier, soft pack mylar bags and vacuum sealed with a nitrogen flush. Pellets are stored in our cold storages here on our farm until delivery straight to you.