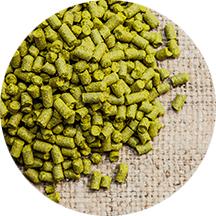 NZ Rakau - 2019 Pellets
2019 Crop 
Alpha Acid 9.6-10.3%
Dual purpose variety with soft bitterness and tropical notes. Tropical aromas of passion fruit and peach, as well as apricot, plum, mango, pear, and other stone fruits. Also has hints of pine.
---
Possible Substitutions
Amarillo and Summit
---
Imported Hop Pellets
Shop our Imported hop varieties in pellet form, pelletized here on our farm. Our pellets are available in various unit sizes, packaged in (4.2m) multi-layered, high-barrier, soft pack mylar bags and vacuum sealed with a nitrogen flush. Pellets are stored in our cold storages here on our farm until delivery straight to you.