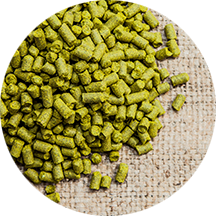 Simcoe® - 2021 Pellets
2021 Crop
Alpha Acid: 13.0%
Dual purpose variety, Simcoe® offers smooth bitterness, bright citrus flavors, earthy undertones and great aromas of grapefruit, stone fruit, citrus, pine and grass.
---
Possible Substitution
Citra®, Magnum, Mosaic®, or Summit

---
Domestic Hop Pellets
Shop our U.S. and farm grown hops in pellet form. Our pellets are available in various unit sizes, packaged in (4.2m) multi-layered, high-barrier, soft pack mylar bags and vacuum sealed with a nitrogen flush. Pellets are stored in our cold storages here on our farm until delivery straight to you.